On August 23th, it was my first time that I've been an actual scene to watch Leagud of Legends games. Especially this game was so epic – LCS NA summer split finals, the winner will be qualified to the Worlds; two of the most historic teams in the league- Team Solo Mid versus Counter Logic Gaming; holding at Madison Square Gardon, New York.
I love League of Legends and have watched almost every games online as long as I can, particularly for LMS, LCSNA and LCSEU, sometimes I also watched important games from other regions, such as regional finals from LPL, LCK or IWCT. I always wanted to experience a LoL game on actual location since I hadn't had a chance before. It felt like I've been waiting so long, finally the LCS game came to New York from Western Coast.
The day, I took a train to the 34th station. On the way to MGS, there were so many people who wore TSM or CLG's t-shirts and held boards for cheering the team they supported. I approximately arrived MGS on 2:30pm, the building was already crowded from outside to inside. Besides, there were many cosplayers and people were taking photographs around them. Because I didn't have any objects related to LoL to wear, I was wondering if I could get a Teemo hat on the booth in MGS before the game, but the hat was sold out so fast before it my turn to buy it on the line! In the end, I got a Poro doll and a badge, it made me feel like I'm closer to here.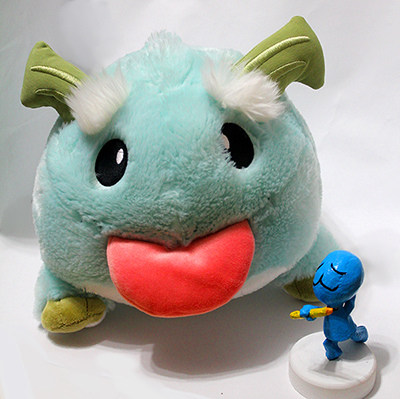 Poro and I are together<3
In the lobby in MGS, there were not only selling goods, but also having something for the fans in other booths, such as free tattoo logo stickers in two colors from playoff teams and free tag strings. There was a table for teams to sign for the fans. There was Team Impulse when I there. I remembered two guys were curiously observing which team was. Once they found out it was Team Impulse, they said "Nuh, it's TIP." and left. It was so cruel and realistic. On the other hands, because the game TIP played was yesterday, it was reasonable that there were not having too many TIP fans. Before entering the stadium, many people were holding their Coke boards, written something fun staff related to LoL, and walking around the place like trains.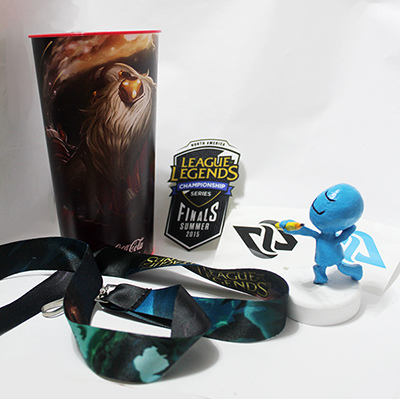 There are Lucian and Thresh on the string. The texture of bedge and the cup are good.
Taking the escalators to the third or fourth floor where my seat was. Although the seat was far away from the stage, there were many gigantic screens on the roof for the audience to watch. It's always an exciting experience to be in MGS, Getting popcorns, sodas and enjoying a short time that I don't need to think anything else- Just watching the game. I also got a box of popcorn, a hot dog and a coke which the cup was drawn a Bard. The hotdog wasn't special but it still brought a special atmosphere for watching a professional game outside.
Since LCSEU's finals was having a fifth game, we were watching the game on the screens live in MGS. It was like an extra reward for being able to watch more games in the stadium. After waiting the game ended, LCSNA's finals finally came. It was obvious to see how TSM was popular than CLG once you heard the crowds cheering voices for the two teams.
Before the game started, analysts and casters were discussing and predicting what the games would go. Xpeical was there too, I remembered when he said something negative, maybe about the teams, the audience was booing him loudly. One of the best experiences of being on location was that you could join the audience and react for what happened- no matter the plays in games or the words analysts said. Especially cheering for \TSM/\TSM/\TSM/ or \CLG/\CLG/\CLG/. Furthermore, you could see even a lots of people supported TSM, they were also willing to cheer for CLG when the team did a fantastic play. The row in front of mine, there were two guys frequently chatting and yelling about the game. Mostly, the content of their conversations were complaining that why TSM couldn't decisively engage a fight.
I tended to support CLG this times although I didn't specifically support a team in LCSNA. I thought it would be more interesting to see a less expected team to win. For me, I like TSM, CLG and C9, they had a similar position in my mind. Originally, I had guessed that the series would go to the fifth game and TSM would win the series. In the end, neither of the guesses hitting, CLG won TSM for 3:0. I thought the unpredictable result like it was why the electronic competition is so charming.
The experience of watching LoL's games in an actual scene was so astonishing and interesting. I will difenetely join another game, cheering for teams!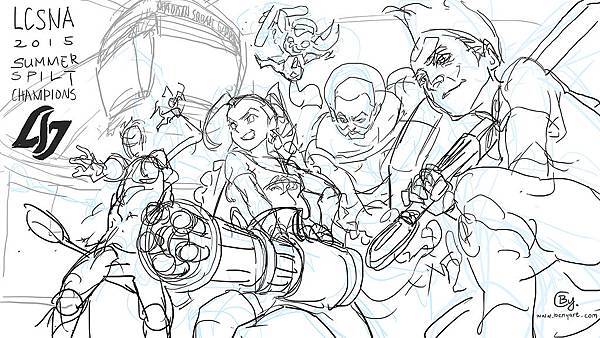 The roguh sketch.
I did an illustration for celebrating CLG won the finals after I back home. Although I don't know when the illustration could be finished, I will try to. Hopefully before the S5 Worlds starts (But it is too hard :p)